In the modern era today, it is not a strange thing anymore if the objects around us or we use get a touch of technology. One of them is wearable fitness tracker which is now widely circulated in the market. The main function of fitness tracker besides of course monitor our fitness, wearable also can improve appearance because usually come with band or strap of interest.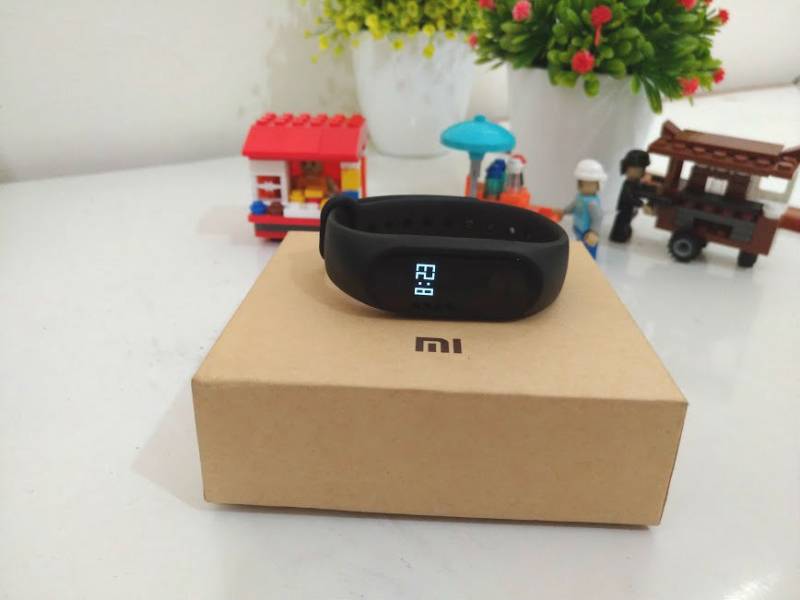 As a technological company that diligently present innovative electronic products, Xiaomi also not miss the fitness tracker. The Chinese company has now launched a third series called Mi Band 2, where previously the company has launched Mi Band 1 and Mi Band 1s. Then, like what form and excellence possessed by Xiaomi Mi Band 2 this? Check out the following reviews.
Specification Xiaomi Mi Band 2:
0.42 inch OLED display
Dimensions 40.3 x 15.7 x 10.5 mm
Weight 19 grams
70mAh battery
Bluetooth 4.0 Low Energy
Heart-rate Sensor, Pedometer
The band length is 235 mm
Capacitive buttons
Price is $ 50 Completeness
Completeness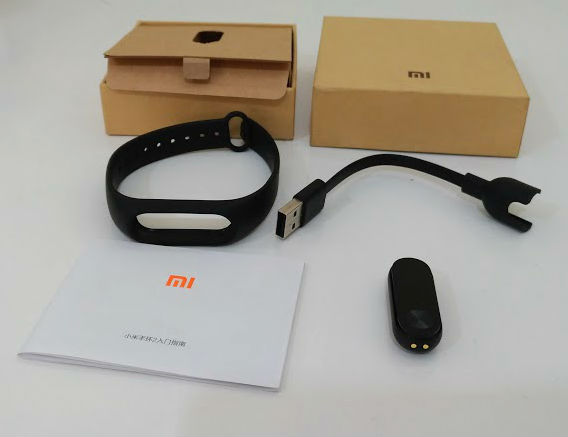 Mi Band 2 Sensor
Strap band
Charger connector
Manual manual
Design
As the latest series, Mi Band 2 must have brought improvements from the two previous series. The entire surface of the Mi Band 2 chip is coated by a glass that has got a special coating, so it is not easy to leave fingerprints. But sometimes the surface of Mi Band 2 still leave fingerprints, especially sweaty fingers. As for the band or bracelet made of rubber materials are quite comfortable to wear, including when the wet, but quite difficult to dry when it is wet.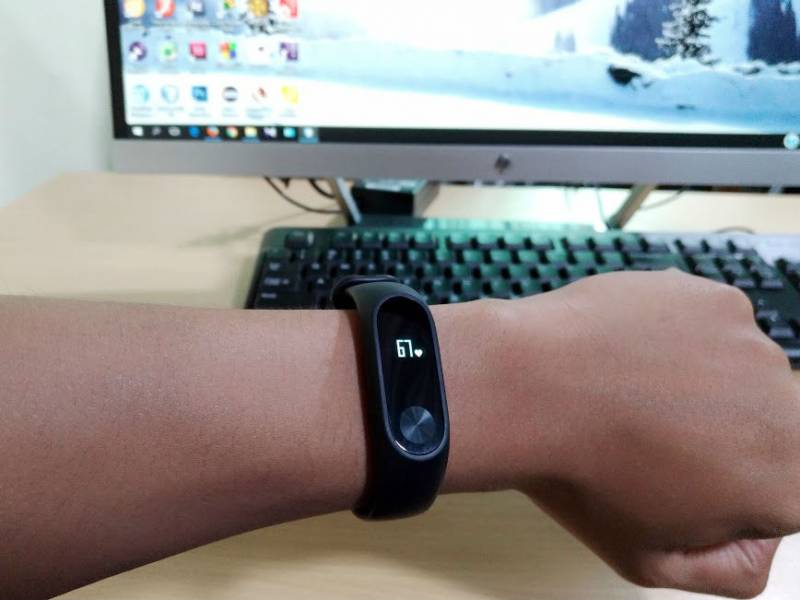 Mi Band is equipped with a circle like a physical button, but actually this is a capacitive button that serves to display information and to change the menus to be displayed on the OLED screen. With the presence of circle accents such as buttons that make the appearance of Mi Band 2 as a whole remains elegant but also looks simple. For bands or bracelets have a total length of 235 mm that you can adjust when worn from 155 to 210 mm.
Screen
Mi Band 2 is the first fitness tracker from Xiaomi that carries the display. Two previous models are present without carrying the display and only rely on connection with the smartphone only. Mi Band 2 screen type OLED which of course can provide a clear view, even in the sun. This type of screen is also claimed to be energy efficient, so the smartband is able to last longer. This OLED screen has an area of ​​0.42 inches and will not be visible when it's off.
Features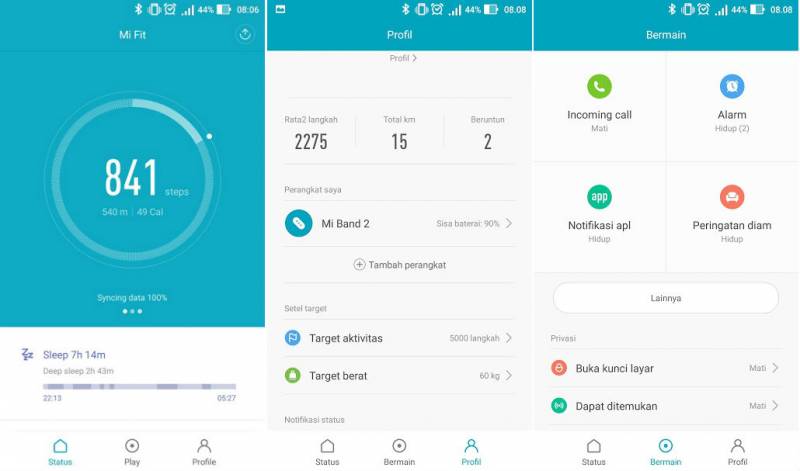 Of course this fitness tracker has been equipped with many features. The main features of this smartband certainly monitor our fitness, such as footsteps, calories burned and heart rate. All that information can be displayed on the OLED screen. The Mi Band 2 pedometer algorithm has also been upgraded, so it will filter out unimportant movements, so only the sport movement is calculated.
With the presence of Bluetooth 4.0 Low Energy, this smartband can be connected with a smartphone. You can see all your fitness information such as the number of calories burned, sleep quality, and more directly through Mi Fit application. The app and Mi Band 2 only support Android OS 5.0 and above. Through Mi Fit you can also upgrade the chip firmware, manage what information is displayed on the OLED screen and others.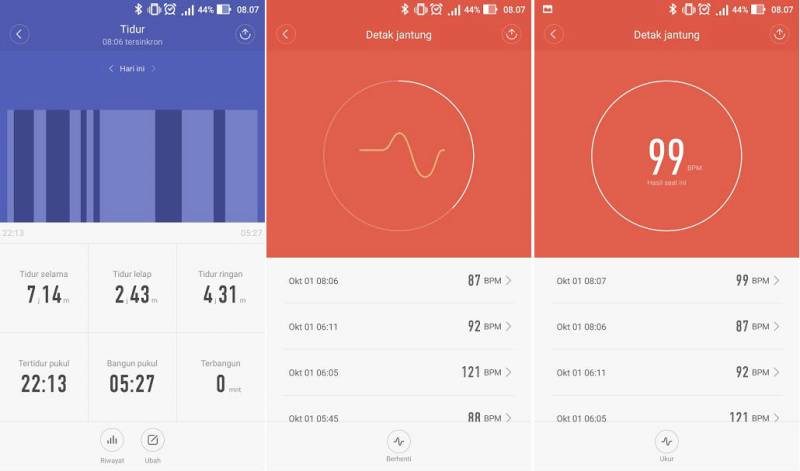 You can also activate the screen automatically, when you raise your hand to see the information on Mi Band 2 without touching the button. Just like any other smartband, when you sit too long and do not move, the Idle feature makes Mi Band 2 vibrate gently to remind you to rest for a while or just to have a drink.
Mi Band 2 can be gregetar if there is a notification on the smartphone, and when you activate the alarm on Mi Band 2, then when it's time Mi Band 2 will give a fine getara to wake you up. For those of you who further confirms, you can unlock the smartphone just by bringing the Mi Band 2 closer to the smartphone.
Battery
Mi Band 2 has a battery of 70mAh which is claimed to last up to 20 days. Of course battery life depends on how often you turn on the screen Mi Band 2. While for recharging the battery takes 1 hour more. You can connect the Mi Band 2 charger to a USB laptop or powerbank while on the move outside.
IP67
With the IP67 certification, of course make this smartband has the resilience of dust and water. Yes, Mi Band 2 you can dive into the water to a depth of 1 meter for 1 hour. However Mi Band 2 itself is not recommended for swimming sport, although there are fitness trackers out there that are recommended for this type of sport swimming.
Conclusion
As the latest fitness tracker, Mi Band 2 has indeed experienced many improvements than its predecessor. With the price of approximately Rp500 thousands, you can bring fitness tracker that is fairly complete feature. Especially with the presence of OLED screen makes you more easy to know at a glance information about your fitness, without having to access it using a smartphone.
Advantages
IP67 waterproof and dust
Has an OLED screen
Sporty and elegant design
Easy to operate
The pedometer algorithm is updated
Deficiency
When worn and wet, the band strap on the hollow section is difficult to dry
The surface of the screen sometimes still leaves fingerprints