Brand-new Smartphone Vivo V9, officially launched in a ceremony held in the courtyard of the temple arena Boroudur, Magelang, Central Java, on Thursday (03/29/2018). Some improvements carried from its predecessor series, Vivo V7 and Vivo V7 Plus.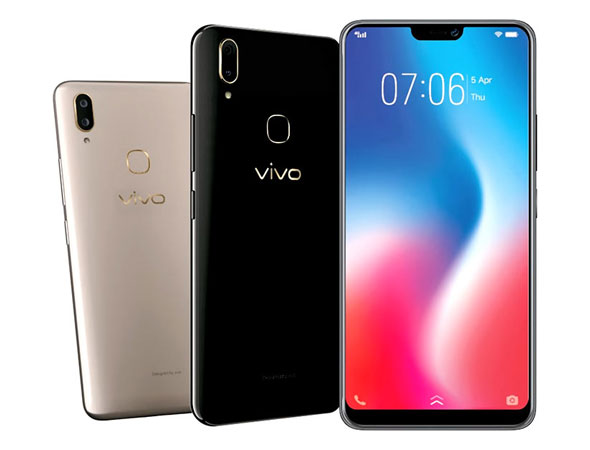 The most obvious difference, there is on the side of the present design. Its 6.3-inch screen leaves a small notch over the screen, similar to the "bangs" or notches that are also present in some other branded smartphones today. Notch is used as a home earpiece and 24 megapixel front camera sensor with f / 2.0 openings.
The resolution of this camera is actually the same as the previous series. Only, this time has been equipped technology artificial intelligence (AI), in AI beauty features. This feature can identify the age, sex, color, texture and ambient light conditions, so called can produce selfie photos are natural and clear even in low-light conditions , with the lighting settings on the face.
The front camera also features AR sticker, which relies on augmented reality to add an interesting animation when the selfie. In the rear body is made of plastic, pinned dual-camera with 13 megapixel main camera sensor and 2 megapixel secondary camera with f / 2.0 openings.
Like the front camera, rear camera also utilizes AI-bokeh, which is claimed capable produce bokeh photo-style DSLR camera. AI-bokeh utilizes machine learning algorithms , to achieve a high degree of precision in identifying photo objects, as well as focus on each shot.
Under the double camera, there is a rounded fingerprint scanner in the middle. In addition to the fingerprint scanner, the screen aperture can also be done through the face unlock feature , or pattern .
Unfortunately, this increase is not accompanied by upgraded "brains" Vivo V9 with a more fierce processor than ever before. Indeed, in some countries, Vivo V9 rely on Qualcomm processor, Snapdragon 626, but in Indonesia still rely on Snapdragon 450, which is commonly used mid-board phones.
Combined with 4 GB of RAM and 64 GB of internal storage that can be added up to 256 GB with external memory. Even so, Vivo V9 has been run with the operating system (OS) latest Android Oreo. This operating system runs with Funtouch OS 4.0 interface Vivo own manufacturer.
For now, there are two variants of color that is produced, namely gold black (black) and gold. However, Vivo also provide clues, if there will be a variant of another color that is cool blue (blue) that will be sold limited. Unfortunately, Vivo is still a secret when the launch of the last variant.
Full specifications Vivo V9 Can be seen below.
Processor Qualcomm Snapdragon 450 Octa-core
RAM / Internal 4 GB / 64 GB (256 GB extension)
Battery 3260 mAh
Color Black in gold (Black), Gold
Operating system Funtouch OS 4.0 (Android 8.1)
Dimensions 154,81 x 75,03 x 7,89 mm
Weight 150 grams
Screen 6.3 inches, a resolution of 1,080 x 2,280
Type IPS Capasitive Touch Screen / Incell
Taouchscreen 2.5 D
Card Slot 2 Nano SIM and 1 microSD
Type Dual SIM Dual Standby
Front camera AI selfie 24 MP (f / 2.0 openings)
Rear camera Main camera 13 MP Secondary 2 MP camera, f / 2.0 LED flash AI-bokeh openings
Camera mode Ultra HD, PPT, Professional, Slow Motion, Time-Lapse Photography, Camera Filter, Live, AI Bokeh, AI HDR, AI Face Beauty, Panorama, Palm Capture, Gender Detection, Flash Screen, AR Sticker, AI Scene Recognation.
Connectivity Micro-USB 2.0, Wi-Fi, Bluetooth 4.2, GOS, OTG, FM
Sensors Accelerometer, Ambient light sensor, Proximity Sensor, E-Compass, Vrtual Gyroscpore