Apple introduced the iPad that are targeted to support teaching and learning in schools. Offered prices ranging from 329 US dollars, and for school students priced 229 US dollars. This tablet is predicted to threaten the dominance of Chromebook made by Google, which also targets the school segment.
Read also: THIS "WEARABLE" CAN KNOW EATING HABITS AND SMOKING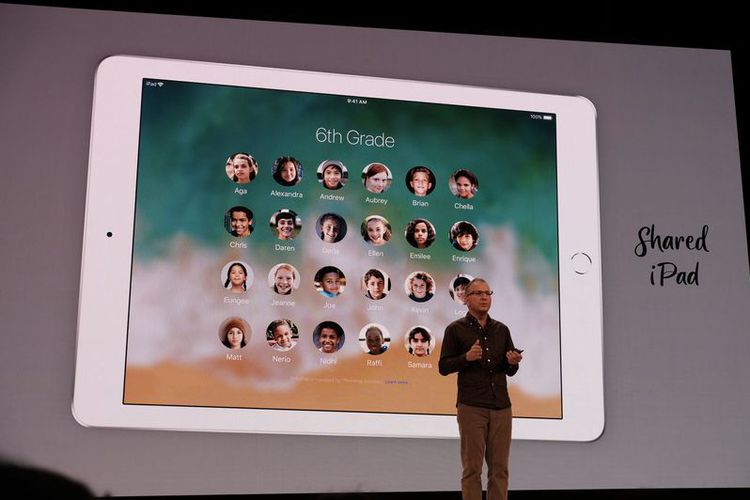 It can be said, this new iPad is a refresher iPad 9.7-inch model, with the addition of Apple Pencil . Apple Pencil sold separately at a price of 99 US dollars, and discounts for students at a price of 89 US dollars. The screen is equipped with Retina Display, which is claimed to reduce eye strain.
This new generation iPad is powered by A10 Fusion chip with 32 GB internal storage. With confidence, Apple mentions if the chipset installed on the new iPad is more ferocious than chipsets installed on all Chromebooks, even though it is a legacy chipset. To note, A10 Fusion is the "brain" of the iPhone 7.
Apple promises new users iPad, if their tablet CPU will be 40 percent faster, even in the graphics sector is claimed 50 percent superior. Battery life is claimed to last up to 10 hours. There is also a model with 4G LTE connection, priced at a higher price, ie 459 US dollars.
This model has been equipped Apple SIM, which allows connectivity to multiple networks without the need for a physical SIM card, as geekandtech summarizes from The Next Web, Wednesday (28/3/2018).
Apple also announced a new version of Pages, Numbers, and Keynote apps supported by Apple Pencil. The application will come with editing features, such as 'Smart Annotation', which teachers can use to add notes to essay assignments directly.
iCloud was upgraded from 5 GB to 200 GB, for students. If calculated, the students still have to spend enough money if using this new iPad. Because with 329 US dollars, they only get tablets, not yet other accessories, such as Apple Pencil, HDMI cable and so on.
While the students are able to bring home the Chromebook, for less than 200 US dollars, the device is claimed to be more practical to use, although not as sophisticated as the iPad.