Sony is one of the smartphone manufacturers that do not currently have a full-screen 18: 9 smartphone. But next year the Japanese company will have a smartphone bezel-less to follow the current market trend. Sony's first full-screen smartphone is known to have the H8541 model number and the good news that recently the specs of the device have been leaked.
Read also: ALLEGED PHOTO LEAK XIAOMI R1 HAS APPEARED, WILL BECOME SELFIE SMARTPHONE?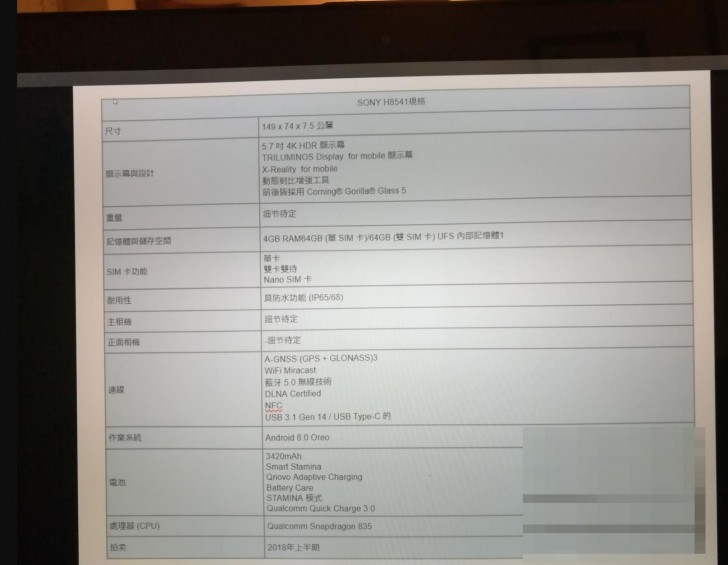 Through an authenticated claimed specification sheet, we can know which devices will come a little better. This smartphone will have a touch screen HDR area of ​​5.7 inches and has a very high resolution, ie 4K. As for the screen protector using Gorilla Glass layer 5 like most other flagship smartphones.
But there is something quite strange for the kitchen, where the list shows if the H8541 will come with Snapdragon 835 chipset which is the flagship chipset this year, while other flagship smartphones like Galaxy S9 will use Snapdragon 845 chipset.
The reason Sony uses an older SoC may be related to timing, where the H8541 device is rumored to be launched at MWC 2018 which will take place in February, and manufacturers other than Samsung may get the chipset a few months later because all of Snapdragon 845's early stocks have been ordered by Samsung.
For other specifications, the Sony H8541 will support 4GB of RAM and 64GB of UFS storage. This smartphone will also support NFC and USB Type-C ports, and has IP68 certification for water and dust resistance. Not to forget, this smartphone will run the Android operating system 8.0 Oreo and has a battery of 3,420 mAh. Unfortunately there is no information about the camera that will be carried by this smartphone.