The latest smartphone Xiaomi redmi Note 5 AI Dual Camera equipped with artificial intelligence technology, on the front and rear camera. With this technology Xiaomi boasted shots results could be better than the iPhone X.
Read also: GALAXY S10 WILL JUMBO AND HAVE 3D CAMERA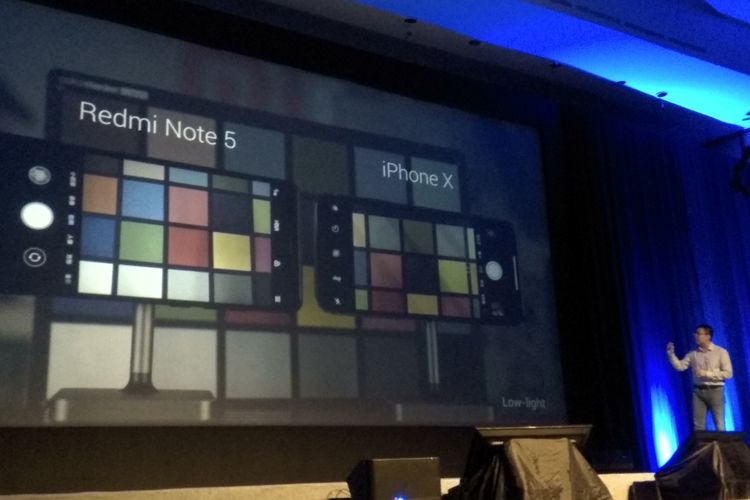 According to Country Manager of Xiaomi Indonesia Steven Shi, Redmi Note 5 AI is intended for photography lovers. There are even some features that make it claimed equivalent to DSLR. "Redmi Note 5 AI has dual pixel autofocus technology, which is commonly used in DSLR cameras," Steven said on stage at the launch of Redmi Note 5 AI Dual Camera on Wednesday (18/4/2018) in Jakarta.
He added with this technology, Redmi Note 5 AI camera can capture the focus faster than the iPhone, and displays colors with better brightness levels. Steven then shows a comparison of the brightness level of the color between the photograph taken with Redmi Note 5 AI with iPhone X, in low light conditions.
"This phone has artificial intelligence technology with deep learning.This technology can detect the edge of the image more accurately coupled with the ability of semantic segmentation," said Steven. "That way can separate the front and rear images and display the effects of bokeh better than other brands," he added.
Redmi Note 5 AI camera also actually reaches the size of 1.4 micronpixel which claimed equivalent to Galaxy S9 and better than iPhone X which is only about 1.22 micronpixel. "The resulting color becomes brighter with more detailed details, so this camera technology will provide a better photography experience," continued Steven.
Redmi Note 5 AI itself has just been inaugurated into the Indonesian market after it was introduced in mid-March in China. Redmi Note 5 AI Dual Camera is actually an updated version of Redmi Note 5 Pro, with some changes, such as hardware and especially the camera sector.
This phone has a main camera with f / 1.9 lens openings, 12 megapixel resolution. This lens can capture more light, and produce a bokeh effect. Mobile phone with artificial intelligence technology camera (Artificial Intelligence / AI) is also the first smartphone with Snapdragon 636 chip that entered the Indonesian market.