The popularity of the Brazilian national team striker, Neymar Jr not only make it the third highest-paid football player in the world. The star of this green field also attracted some mobile phone vendors to ask for him to be a commercial star.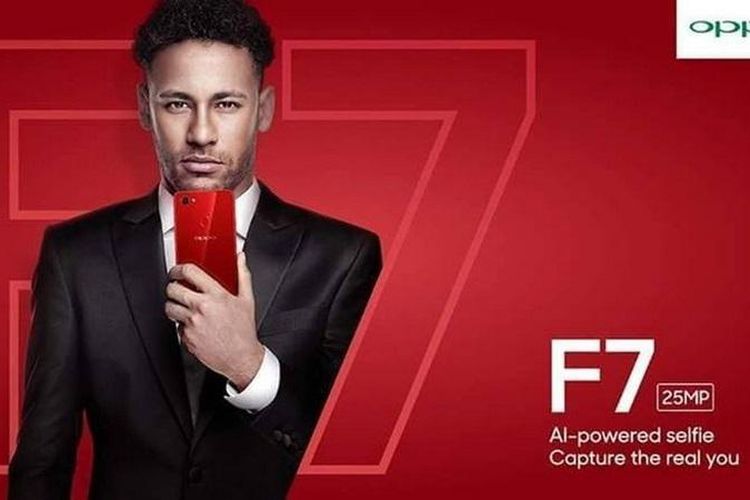 One of them is a smartphone vendor from China, Oppo who officially took the Paris Saint-Germain. The Neymar and Oppo contracts will take place during the 2018 World Cup tournament held in Russia. By doing so, Neymar face will meet slate Oppo products ranging from Oppo F7 and Oppo Find X .
The cooperation of Oppo and Neymar is not the first. Previously, Oppo has released a special edition Oppo FC Barcelona which was then also reinforced Neymar. Reporting from the Financial Express on Monday (6/18/2018), the appointment of Neymar as ambassador selfie Oppo enough important to show the genius features artificical intelligence / AI 2.0
Which became the spearhead Oppo F7, like Neymar who became the spearhead Brazilian national team in the World Cup 2018. Oppo is not the only Chinese vendor to make Neymar a star of its products. China's electronics manufacturer, TCL has also recruited Neymar.
He also collaborated with Digible to launch the application "Neymar xperience App", a digital soccer learning app, including Neymar tips on nutrition, fitness and training. According to Forbes website, the cost of endorsment for Neymar is predicted to reach 15 million US dollars
And placed him as the top five athletes with the highest pay in the world in 2018. Action Neymar promotes Oppo's "selfie expert", can be seen in the promotional video of Oppo Find X, which will be released June 19, 2018 in Paris, France.