The top-class laptops will be speeding, with a processor that has just been introduced by the chip giant Intel, the Core i9-8950HK. Official launch in Beijing, China, on Tuesday (4/3/2018) yesterday, Core i9-8950HK is a member of the family of Intel Core 8th generation with Coffee Lake architecture.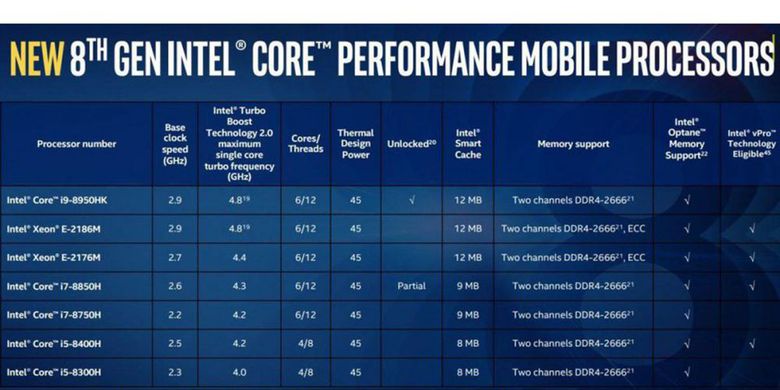 With six core CPUs (12 threads) at 2.9 GHz and Turbo Boost up to 4.8 GHz, the Core i9-8950HK is claimed to be the fastest laptop processor ever made by Intel. According to a written statement Core i9-8950HK as well as the first processor with six CPU core in the realm of chips for portable computers.
Core i9-8950HK performance can still be improved further through overclocking, because it has an open multiplier.
The Coffee Lake processor family is manufactured with a 14 nm fabrication process and is said to be capable of delivering 50 percent higher performance than previous generations, especially during gaming and heavyweight multimedia processing, such as 4K video editing.
Core i9-8950HK itself is one of five new laptop-based laptop architecture processors introduced by Intel. Read also: Lenovo Yoga 920 Released, First with Coffee Lake The other four processors are Core i7-8850H, Core i7-8750H, Core i5-8400H, and Core i5-8300H.
There are also two mobile workstation processors, namely Xeon E-2186M and Xeon E-2176M. Their specifications can be seen in the table above. Gigabyte Aero 15 gaming laptop based on Intel Core i7-8750H.