With the shipment numbers in the range of 476 million units in 2016 , China is the world's largest smartphone market that is almost entirely dominated by local brands.
Counterpoint research firm noted, among the smartphone vendors from outside China, only Apple whose homemade products made it into the list of 10 best-selling smartphone in the Bamboo Curtain country.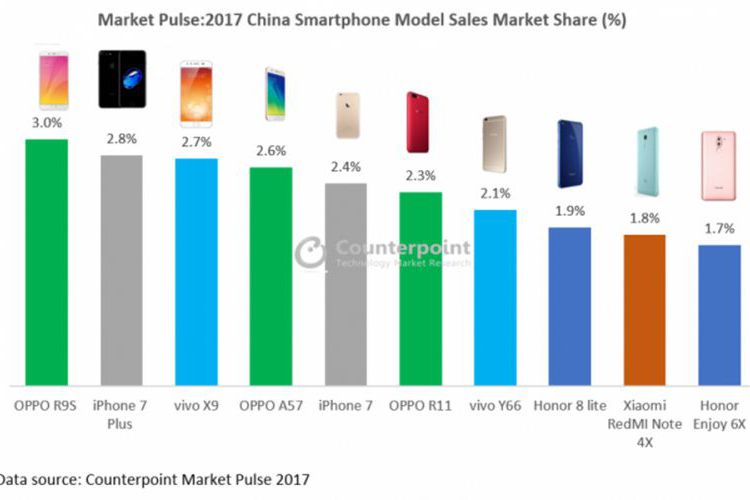 Counterpoint reports seat two iPhone 7 Plus and second and third-placed iPhone 7 phones, each with a market share of 2.8 percent and 2.4 percent.
The top position is occupied by Oppo R9S with a slightly different market share of iPhone 7 Plus, which is 3 percent.
"The top five models are competing," Counterpoint said in a report. The average sales of all smartphone models in the top 10 list reached 1 million units per month throughout 2017.Counterpoint adds, the list of 10 best-selling smartphones in China is dominated by the middle board models. "Unless the iPhone 7 is included in the premium price category," wrote Counterpoint, as summarized
geekandtech
, Wednesday (17/1/2018).
Overall, Chinese local brands, Huawei, Oppo, Vivo, and Xiaomi occupy eight of the top 10 best-selling smartphones in China.