Canon finally launched its first full-frame mirrorless camera, EOS R. This launch was only a few weeks adrift with compatriot competitors, Nikon which released a full-frame Z6 and Z7 mirrorless duo in mid-August.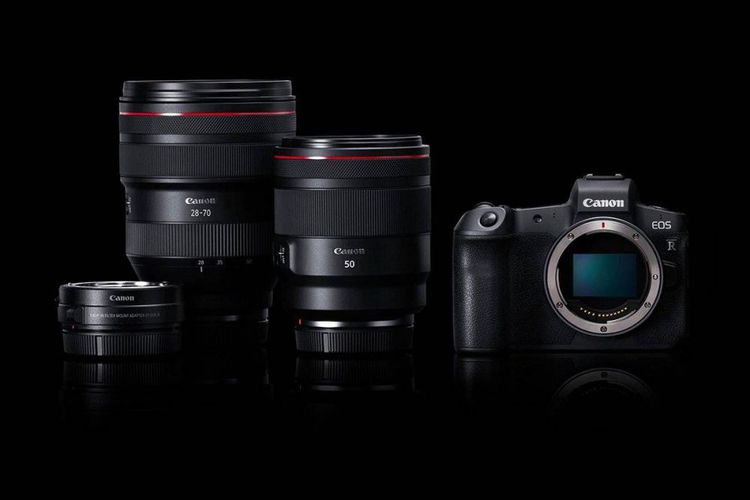 The EOS R is equipped with a 30.3 megapixel full-frame sensor CMOS sensor with an ISO 100-40,000 range. The sensor uses dual-pixel autofocus to lock the focus more precisely and is combined with a Canon DIGIC 8 image processor.
There is an OLED touch screen panel that also functions as a viewfinder (Live View) in capturing objects and a panel containing information located on the top side of the camera. From the physical, EOS R looks similar to a slimmer version of DSLR camera.
Even so, all lenses have special control buttons and also buttons for zooming and manual focus. This control allows the user to adjust the aperture or lens opening, from the lens body itself. There is also a sliding control button on the back of the camera to select other features.
Canon EOS R glides accompanied by four focal lens options, namely 24-105 mm L openings f / 4, 50 mm L openings f / 1.2, and 28-70 mm L openings f / 2, and fixed lenses 35 mm openings f / 1.8 macro . Canon also released three pairs of lens adapters for EOS SLRs.
One of them is the control ring and the rest can be used together with the drop-in filter. Other features of Canon EOS R include Dual Pixel AF with 5,655 focus points that can be selected, with 88 percent vertical coverage and 100 percent horizontal. Eos R also has an xposure setting of up to -6EV.
This camera has an ISO ISO of 100-400,000 which can be expanded again to 50-102,400. The EOS R supports the new RAW Canon 14-bit CRW and C-Raw formats which have smaller file sizes. The fastest shutter speed that can be reached by the EOS R is 1/8000 second with an X-sync speed of 1/200 second.
There is also a 'Silent LV Shooting mode' feature that shoots silently, utilizing the camera's electronic shutter. Compiled from The Verge, Wednesday (05/09/2018), the Canon EOS R is priced at 2,299 US dollars for the body alone or 3,399 US dollars with a 24-105 mm lens.
The Canon EOS R full frame mirrorless camera starts to be ordered on September 12 and will be available on the market from October.