After various leaks appear in cyberspace, Sony is now re-releasing its newest flagship cellphone, Xperia XZ3. This phone is the successor to Xperia XZ2 which was released early in 2018. Broadly speaking, Xperia XZ3 has a design that is quite similar to its predecessor.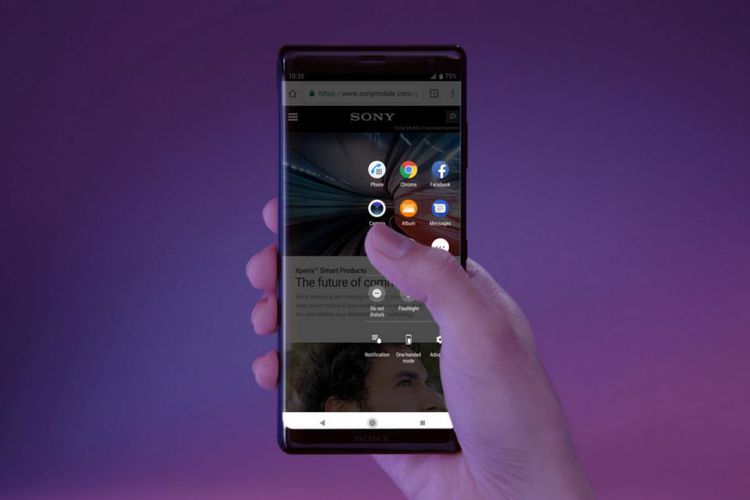 The specifications were not much different, but with improvements in several aspects. For example on the screen. Xperia XZ3 has a wider screen span than its predecessor, which is 6 inches. The resulting density of this screen is also raised with a resolution of 1440 x 2880 pixels.
According to Executive Deputy President and Head of Sales Marketing at Sony Mobile Communications, Hideyuki Furumi, Xperia XZ3 is designed so that users can enjoy high-quality audio-visual content.
"Our new Xperia XZ3 smartphone is not only beautiful to look at, but is packed with Sony's advanced audio and visual technology that allows you to enjoy high-quality content," said Hideyuki Furumi quoted from Sony's official page on Friday (08/31/2018).
He also added that this cellphone could be one of the mainstay devices for content creators. This is also evidenced by Sony by increasing the size of the front camera which initially only 5 megapixels to 13 megapixels with the EIS 5-axis gyro feature.
Similar specifications Nevertheless, other specifications carried by this cellphone are still similar to its predecessor, the Xperia XZ2. The screen is still coated with Gorilla Glass 5 with a thin edge frame. For the inner sector, the Xperia XZ3 is still armed with Snapdragon 845 with GPU Adreno 630.
The available storage capacity is still the same, namely 64GB with 4GB RAM paired. If it's lacking, users can still expand storage via MicroSD to 512GB. Unfortunately this phone adopts a hybrid slot where the user has to sacrifice one of the SIM card slots if you want to use a MicroSD.
For the camera sector, the Xperia XZ3 is also still armed with a 19 megapixel lens with f / 2.0 openings. Unfortunately, Sony still hasn't pinned a dual camera like most flagship. Xperia XZ3 battery capacity is slightly larger than its predecessor, which is 3300 mAh.
This phone comes with four color choices namely Black, Silver White, Forest Green, and Bordeaux Red. This phone with Android 9 Pie operating system is planned to be marketed at the end of September. Although Sony has not released its official price, Xperia XZ3 is expected to reach the price of 900 US dollars. Interested in buying it?