Last month, Oppo has just introduced the Oppo A71 entry-grade smartphone edition 2018 which is an upgraded version of the original A71 series that releases 2017. Now, Oppo is re-releasing an upgraded version of Oppo A71 (2018) by increasing RAM capacity to 3 GB, from the previous 2 GB.
Oppo retains the Snapdragon 450 chip with a 1.8 Ghz CPU in the A71 series (3 GB). As is known, Oppo A71 (2017) brings Mediatek MT7650 chip.
Read also: OPPO R15 USE NEW MEDIATEK "AI" CHIP?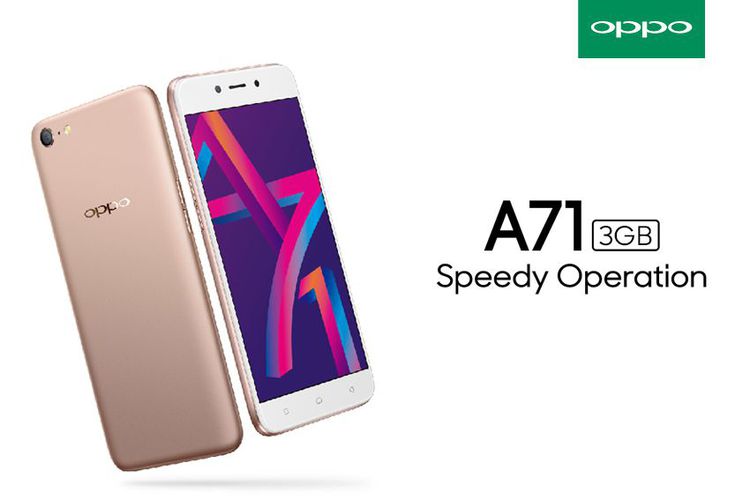 Oppo A71 3 GB RAM can be found across the Oppo Store network, outlets selling Oppo products, modern retailers and e-commerce sites. In addition, Oppo A71 (3GB) is also equipped with artificial intelligence technology or AI (artificial intelligence) Beauty Recognition as in the Oppo F5 line.
Expected with a combined Snapdragon 450, 1.8 GHz CPU, and 3 GB RAM, the operation of the application and multitasking can be more powerful. This configuration is claimed to make the process of opening applications faster up to 12.5 percent compared to previous versions.
Battery capacity of 3,000 mAh in Oppo A71 (3 GB) was claimed to last longer, up to a full day under normal circumstances. The Oppo A71 camera (3 GB) features AI beauty recoganition technology, allowing selfie photos to be more real and natural.
The technology will scan 254 points of the face to detect skin color, skin type, age and gender and make personalization of selfie effects according to the object of the photo.
The rear camera has a 13 megapixel resolution with Multi-Frame Denoising Technology feature to reduce noise on shooting in low-light conditions. Ultra HD feature can also combine several images to produce images with 50 megapixel resolution.
Oppo A71 (3 GB) runs with Android OS 7.0 Nougat, and comes in two color variants namely gold and black (black), as written information obtained geekandtech, Friday (9/3/2018). Other features are also present in this device, such as split screen that can display two applications in one screen, game acceleration, kid space to control the use of devices in children and payment protection that serves to secure digital payments.