After releasing a duet Oppo R15 and R15 Dream Mirror Edition, quietly Oppo also announced a series of new devices, the Oppo A1 for the Chinese market. From the name similar to the product Xiaomi, the Mi A1 which has a double camera on the back and priced quite cheap.
Read also: THIS IS OPPO F7 COMPLETE SPECIFICATION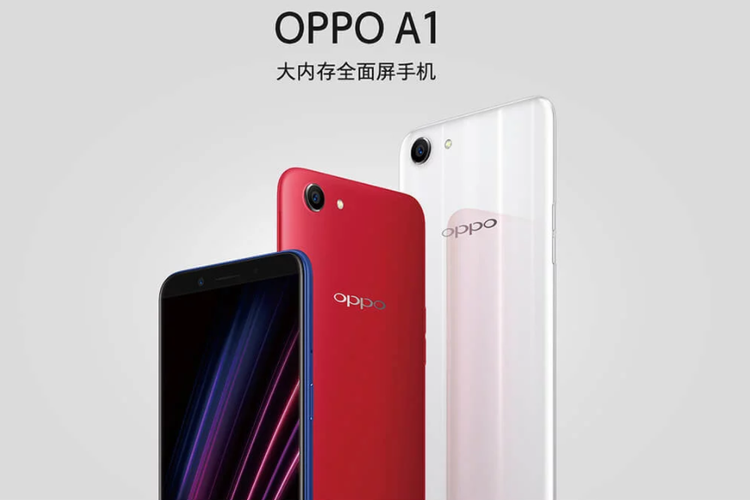 What about Oppo A1, is the specification higher and the price can compete with Xiaomi Mi A1? Oppo A1 rely on a rear camera that is capable of producing 50 megapixel photos. Oppo A1 rear camera is actually carrying 13 megapixel sensor, but the image can be enlarged equivalent to 50 megapixels thanks to interpolation software.
Interpolation technique is a technique of increasing resolution, by manipulating (imitating) pixels. The software recognizes the pixel color around, then fills the empty pixels that are nearby. In this way, the original 13 megapixel resolution image can be boosted into a 50 megapixel resolution
Oppo A1 front camera itself has an 8 megapixel sensor. Overall, the design of the Oppo A1 is quite simple with a rounded 2.5D curved screen at the corners. On the back, there is a single camera with LED flash.
Special for white color device, the design looks more elegant than red or blue. When viewed from the picture, the back reflects light, which indicates if the back is coated with a glass material. According to China Gizmo lansiran summarized geekandtech, Monday (26/3/2018), Oppo A1 carrying the screen with a span of 5.7 inches with a current ratio of 18: 9.
The hardware specifications that have been revealed are 4 GB RAM, 64 GB internal storage, and a battery capacity of 3180 mAh. Not yet known the type of chipset used Oppo A1. But if you look at the last A series, the Oppo A83 , "the brain" rely on MediaTek MT6763T Helio P23 chipset.
From the photos in circulation, there are three variants of Oppo A1 colors are released, namely dark blue (blue), cherry red (red), and white. Like the Oppo A83 series too, the fingerprint scanner in Oppo A1 was absent, and replaced by face unlock feature. Oppo A1 reportedly will be priced at 1399 yuan and immediately marketed from 1 April in China market.