As someone who's constantly striving to take their fitness game up a notch, you've likely heard of fitness wearables. But what are they and why should you be using them? Well, to put it simply, fitness wearables are devices that track your physical activity and performance, allowing you to keep an eye on your progress and make adjustments as needed. These nifty gadgets have become increasingly popular over the years, and for good reason. By wearing them, you can get an accurate assessment of your health, enabling you to optimize your workouts, get timely reminders to stay active, and reach your fitness goals more efficiently. So if you're looking to up your fitness game, now's the time to stop procrastinating and start investing in a fitness wearable.
Types of Fitness Wearables
Ready to get in shape? You're gonna need a reliable wearable to keep track. So let's talk about the different types available on the market. From old-school activity trackers to smartwatches to heart rate monitors – there's something for everyone.
First up, activity trackers. These are your basic wrist-worn gadgets that measure how many steps you take and how far you've traveled in a day. They usually come with a few extra features like calorie tracking, sleep monitoring, and notifications. But if you want more extensive details on your fitness performance, an activity tracker isn't the way to go.
Smartwatches are a great option if you're out there wanting something with a little more oomph. These bad boys have all the bells and whistles. Not only can you see how many laps around the park you've done, but you might also get access to heart rate tracking, GPS, detailed sleep analysis, and so much more. That said, these watches tend to be pricier than most activity trackers.
But if you really just want to concentrate on cardio, then you'll wanna turn your attention to heart rate monitors. They focus solely on providing you with accurate information about your heart rate during exercise, so you can make sure you're always working out at an intensity that's healthy for you. However, these don't come with other features like step counting or GPS that you'd find in an activity tracker or smartwatch.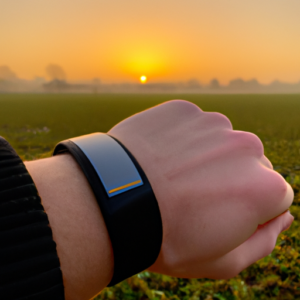 So now that you know the difference between the three main categories of fitness wearables, you'll be able to pick the one that's right for you. Whether you're looking for a no-frills activity tracker or a full-on smartwatch – you're guaranteed to find something that fits your needs.
Factors to Consider When Choosing a Fitness Wearable
When it comes to choosing the right fitness wearable, there's no one-size-fits-all solution. Everyone has different needs, wants, preferences and budget. So before you pull out your wallet, it's important to consider what features you value most in a device. Here are four key factors to think about when selecting a new fitness tracker or smartwatch.
Functionality: What kind of activities will you be tracking? Do you need an integrated GPS, sleep tracking, a waterproof design, music playback or other specialty features? Different models excel at different types of tracking, so make sure to find something that can accurately measure all the metrics you want it to.
Design: You'll be wearing this device on your wrist every day, so you want it to look good! And it's not just about esthetics – some trackers are more comfortable to wear than others. Be sure to read reviews and check out different sizes and shapes to see which one fits your lifestyle best.
Battery life: Battery life varies widely between devices. Some luxury models may last up to seven days on a single charge, while others need to be plugged in daily. Overall, the more features you have, the shorter the battery life tends to be.
Price: Finally, you should always consider your budget and decide how much you're willing to spend on a fitness tracker or smartwatch. Entry-level models start around $50, while higher-end options can cost hundreds of dollars. Finding the right balance between price and performance is essential.
Best Fitness Wearables
We often times take a lot of thought into what we put on our bodies to make us look good. However, have you ever considered the type of wearables that could help you stay fit and healthy? While there are tons of options out there, narrowing it down to just four can be tough. Here's my rundown of the four best fitness wearables currently on the market that can help you reach your goals.
First off, the Fitbit Versa 2, a great all-rounder for those who don't want to spend too much or too little. It's lightweight, has a long battery life, is stylish, and most importantly, tracks all your activity – from running, walking to swimming. Plus, with its sleep tracking function, you'll get a better insight into how you're performing each night.
Second in line is the Garmin Forerunner 945. This heavy duty piece of kit is built for serious athletes and sports enthusiasts. With GPS and GLONASS support, heart rate monitoring and up to 60 hours of battery life, this watch is optimised for long distance running and outdoor activities. If you're looking for a top-tier fitness wearable, look no further than the Forerunner 945.
Third, we have the Apple Watch Series 5, arguably one of the most popular smartwatches out there. Combining the latest tech advancements with a sleek design, extensive app support and comprehensive health tracking, there's not much this watch can't do. And when it comes to staying motivated, the motivational reminders and awards system will give you the extra push you need.
Finally, the Huawei Band 4 Pro. Sleek, slim and practical, this band makes a great choice if you're after something discrete yet expressive. With features such as real-time heart rate tracking, step counting, sleep tracking and notifications, this little device has all the bells and whistles you need to stay on track. Not to mention, it has an impressive battery life too, going strong for up to 7 days between charges.
Final Thoughts
When it comes to fitness wearables, it's important to consider all the factors before you buy. You'll want to prioritize functionality, design, battery life and price when deciding which device is best for you. As far as the top fitness wearables go, there are plenty of great choices, like the Fitbit Versa 2, Garmin Forerunner 945, Apple Watch Series 5, and Huawei Band 4 Pro. Ultimately, you have to choose a device that fits your lifestyle and meets your needs, so really take some time to think about what will work for you.
At the end of the day, these trackers and watches can be invaluable in helping you stay on track with goals, inspiring healthier habits, and motivating you to stay active and fit. Investing in a quality fitness wearable is worth the effort and cost, and having a device that accurately records your progress and keeps you up to date with your progress can make a huge difference.
Conclusion
When it comes to choosing a fitness wearable, there's no one-size-fits-all solution. You've got to consider all the factors: functionality, design, battery life, and price. Depending on your fitness goals and lifestyle, any of the wearables I have mentioned could be the perfect choice for you. Whether it's the Fitbit Versa 2, Garmin Forerunner 945, Apple Watch Series 5 or Huawei Band 4 Pro, each has its advantages and disadvantages. Ultimately, it's up to you to decide which one is best for you.
Whatever device you choose, make sure that you're getting the most out of it. Utilize the features available, set goals and track your progress. It's not just about the device – it's how you use it that makes the difference!
FAQs about Fitness Trackers
Which is the best fitness device?
When it comes to fitness wearables, it's all about finding the one that best fits your needs. After surveying a few fitness experts, I've found the best fitness device to be the Apple Watch. It offers a variety of features, including the ability to track heart rate, steps, calories burned, and much more. Plus, it has a sleek design and is extremely durable, making it the perfect companion for your workout.
The Apple Watch has some nifty features that make it stand out from the competition. The electrocardiography (ECG) app lets you measure and track your heart rhythms with ease. It also has an activity tracker which can help you track and monitor your progress. And with the Fall Detection feature, you can be alerted if you take a tumble during your routine.
Also, its battery life is impressive; you can get up to 18 hours of battery in one day. And if you're looking for music motivation during your workout, its built-in speaker can stream your favorite tunes. Finally, the Apple Watch is water-resistant up to 50 meters. So you can feel free to sweat it out in the water, knowing your device is safe.
There you have it: the Apple Watch is the best fitness device I'd recommend. With its feature-packed design, sleek design, and impressive battery life, you'll have everything you need to stay motivated and achieve your fitness goals.
What smartwatch is best for fitness?
If you're looking for the best fitness wearable, then look no further. I'd have to say that the smartwatch from Apple is the way to go. It's got all the bells and whistles – GPS tracking, heart rate monitoring, and more – that you need to stay on top of your fitness goals. And with its sleek design and user-friendly interface, it's easy to use and track your progress. Plus, its advanced features, like the activity tracker and workout coach, can help you reach those goals more quickly.
Plus, the battery life on this smartwatch is impressive, so you won't have to worry about running out of juice halfway through your workout. And the price? It's surprisingly affordable considering all the features you get.
So, if you're ready to step up your fitness game, the Apple smartwatch is definitely your best bet. With its advanced technology and top-notch features, it's essentially like having a personal trainer in your pocket.
Which fitness band is most accurate?
Well, if you're looking for the most accurate fitness band, you ought to dig into the details about which tech companies are behind the product. You want something that's reliable and accurate, and ideally something with a good battery life. I'd recommend looking at Garmin, Fitbit, and Apple – all have solid track records when it comes to making fitness wearables that are dependable. If you want the cream of the crop – something with the best accuracy and latest tech features – Garmin's Forerunner line of watches is your best bet. Not only are they packed with features like heart rate monitoring and GPS tracking, but they're also incredibly reliable. At the end of the day, it's the accuracy of the device that matters, and the Forerunner series is second to none.
Of course, if you want something that's more affordable then the Fitbit and Apple watches are both good options. The Fitbit Versa and Apple Watch Series 4 are both excellent choices for those looking for a fitness tracker with a great battery life and lots of features. You'll get lots of notifications and tracking data that's very accurate, and both have capacitive touchscreens to interact with the various apps and notifications.
No matter which one you decide to go with, you'll be sure to have the most accurate fitness wearable on the market. So go ahead and make your choice – but remember to do your research first!