Playing the piano is a fun hobby to pursue. However, it can also be very intimidating. Learning the basics of a piano can be a real headscratcher. Learning simple melodies can even discourage people from even trying. At first glance, you may find yourself overwhelmed with all the effort and dedication required to master such an instrument. However, with enough practice, you too can make symphony on this intimidating beast.
Starting with the Basics
While the grand piano is the first image that comes to mind, it is not the only piano available in the market. Electronic keyboards, while not as big or bulky, can provide a similar – if not better – experience. They are also move affordable than grand pianos, which is a perfect way to get into the instrument.
While electronic keyboards weigh less and are cheaper than grand pianos, they can still take up a ton of room. For those who want to play the piano without having to sacrifice a lot of space in their apartments, the Seaboard Block is for you.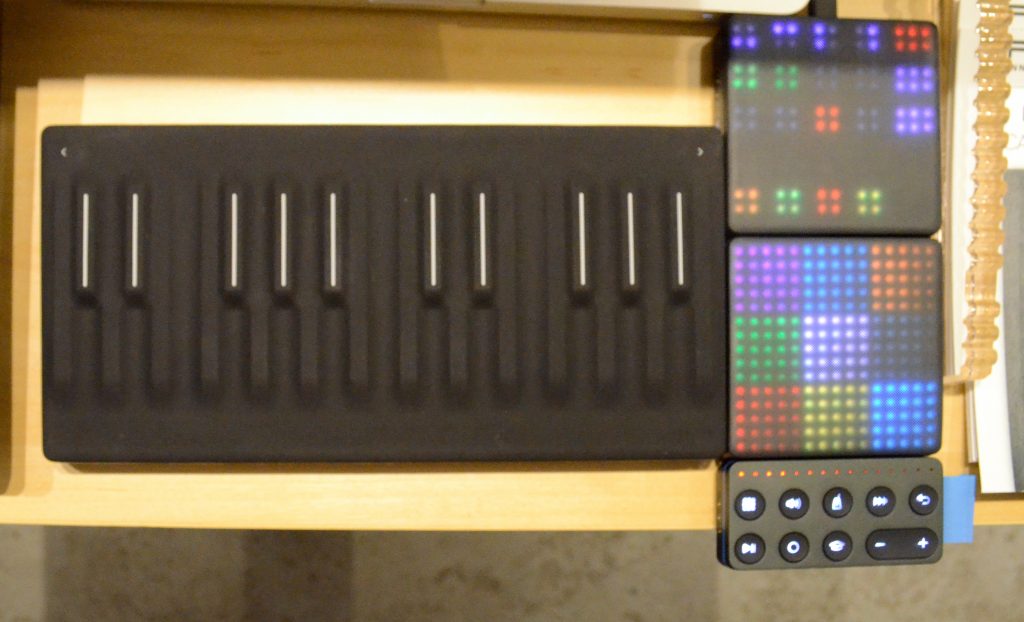 Seaboard Block
The Seaboard Block Studio Edition is a compact keyboard with amazing capabilities.
One of the biggest selling points of the Seaboard Block is its compact size. It is about the size of an average tablet and is very lightweight – an incredible shift from bulky keyboards. This means you can bring the Seaboard Block with you anywhere without breaking a sweat. It also gives you the ability to store it anywhere. You can store it inside bags, stash it in small compartments, or even carry it around like a notebook. With the Seaboard Block's extreme portability, you can take it with you wherever you want to go – something you cannot do with a piano.
The Seaboard Block also embraces technology and upgrades the piano playing experience to the 21st century. You can still play the classics and get the feel of playing the original grand piano. However, the Seaboard Block does not stop there.
A Modern Approach
The Seaboard Block offers a number of upgrades to the basic electronic keyboard. For one, it is completely wireless. It connects to your device via Bluetooth, something a keyboard simply cannot replicate. Without wires crowding up your workspace, you can focus all your attention on the music. With the help of computers and mobile devices, your Seaboard Block has a broader range than a classic piano.
It works well on the iOS, providing you with editing on the go. You can use the Block to mix tunes, create modified sounds, and create amazing combinations you cannot do with a basic piano. With the help of technology, the Seaboard allows pianists to put way more expression into their play compared to normal piano/keyboard.
For instance you can include vibrato (just like on a guitar) to any note, you can slide from one key to the next and further to change the tone.
This turns playing piano completely upside down and opens it up to a whole next level of expression.
Know the Negatives
While the Seaboard Block Studio Edition has amazing perks, it also has some flaws. For instance, sensitivity can be changed, but you cannot do it at an iOS. This ability requires access to a computer. And since this is such a portable device you probably want to use it on the go on your iphone or ipad, which means you need to have set the sensitivity correctly beforehand.
This means that you cannot change key sensitivity while on the road. While this can be a bother to some, the complete package outweighs this small issue. For those wanting a modern approach to piano playing, this is the gadget for you.